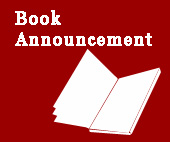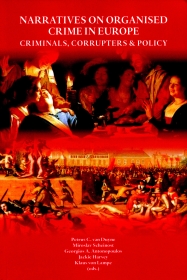 Petrus C. van Duyne, Miroslav Scheinost, Georgios A. Antonopoulos, Jackie Harvey, Klaus von Lampe (eds.)
Narratives on Organised Crime in Europe: Criminals, Corrupters & Policy
Oisterwijk: Wolf Legal Publishers, 2016
428 p.
ISBN: 978-94-6240-316-1







Abstract:
This edited volume contains a selection of peer-reviewed papers originally prepared for the 15th Cross-border Crime Colloquium, held in Prague in May 2015. Petrus C. van Duyne provides an introduction. Marija Zumic investigates the political scandal of the Port of Belgrade. Radu Nicolae explores patterns and vulnerabilities to corruption in Romania's healthcare system. Anna Markovska and Yuliya Zabyelina describe the gambling industry in Ukraine. Ilona Karpanos recounts 95 years of history of organized crime and the criminal economy in Russia. Peter Sproat contrasts presentations and realities of organized crime in the UK. Jackie Harvey and Rob Hornsby present a case study of an organized crime family in the North of England. Anita Lavorgna explores the cyber-organized crime narrative. Anna Sergi compares perceptions of organized crime among prosecutors in Italy, England and the US. Klaus von Lampe discusses the role of the German foreign intelligence service Bundesnachrichtendienst (BND) in fighting organized crime. Petrus C. van Duyne and Alan Kabki present a study of 15 cases of investment fraud and 15 cases of bankruptcy fraud. Miroslav Scheinost illustrates some characteristic cases of organized economic crime in the Czech Republic. Kathryn Gudmunson compares English language online media coverage of drug decriminalization in the Czech Republic and in Portugal. Brandon Joseph Quirke assesses Malta's role in the fight against EU fraud. Mihaela Sandulescu evaluates how the Swiss banking system has adapted to a culture of AML compliance. Paul Larsson discusses whether there has been a moral panic concerning bikers in Norway.

To download a PDF-file with the cover, table of contents and introductory chapter of the book, or to download complete volumes from this book series, visit the Cross-Border Crime Colloquium website.


---
Cross-border Crime book series | Organized Crime Book Reviews | home | Index | Links | e-mail